Website Development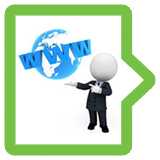 We specialize in building websites that can be easily managed by Content Management System. With the CMS and superior product support we provide you with the right product at the right price.
We work closely with each customer to make sure the website they receive meets their goals, and the needs of their audience. With the CMS our customers can easily update and maintain their own website without paying for modifications. If you're looking for upgrades to your site, we can easily add on to your site so it can grow as you do.
For online store, we will customized to meet the needs of your business, allowing your customers to browse your inventory and purchase online. Our web e-commerce packages come with content management system. This allows you to manage your products as well as the pages in your site.
We can work together to integrate your website with other online solutions for shipping, taxes, and payments. Big or small, our e-commerce solution makes product management fast and easy.
In addition, there are some services that we can do that as well for website promotion.
And our team provides superior support services through both email and phone. We strive to resolve any problems in a timely manner without costly support fees.